Mowing hilly lawns is a headache many landscapers are familiar with. A regular mower will feel heavy when you go up the slope, making the job stressful. The mower may also stall or overheat. All these hurdles can translate to spending more time on a single task.
Fortunately, with the best mower for hills, you don't need to worry about your hilly lawn. Such a utility boasts a robust engine for power and resiliency. It should also be comfortable and light. 
What type of riding mower is best for steep hills? What should I look for when getting a mower for an inclined lawn? Read on to get the answer to these queries and more.
Reviewing the Best Mowers for Hills
The following are our selections for the best mowers for steep yards.
Greenworks Pro 80V 21'' Brushless Self-Propelled Mower
DeWalt Z148 48'' Mower
Craftsman T310 Turn Tight 54-In Riding Mower
American Lawn Mower Company 1204 14-Inch Push Lawn Mower
Ryobi 48V 38'' Brushless Electric Riding Mower
Greenworks Pro 80V 21'' Brushless Self-Propelled Mower
Our number one pick for the best mower for hills is the Greenworks Pro 80v brushless self-propelled mower. It is an easy-to-use electric walk-behind, with steering the mower being your sole task. Its self-propelled drive system is handy for tackling different terrains with ease, including inclined surfaces. 
This Greenworks mower runs on a brushless motor, which is durable and powerful, efficient for mowing uphill. The two 80V 4Ah batteries ensure the mower has all the power it needs. You must charge the battery regularly to prevent stalling or problematic starts. The patented Auto Switch feature switches to another battery if one gets depleted, ensuring uninterrupted mowing.
The SmartCut technology is another impressive feature of this walk-along. It automatically tunes the mower's power depending on grass height. This technology improves battery economy, translating to sustainability when working on your lawn.
The Greenworks Pro 80V mower has a 21-inch durable steel deck that protects the blades when dealing with rugged surfaces or boulders. You can adjust the deck to seven trimming heights, hinting at its versatility. Furthermore, the mower has bright LED headlights for working in dark conditions. This mower is noiseless and has zero emissions. 
Specs
A powerful brushless motor
Two 4Ah batteries
A 21-inch stainless-steel deck with seven cutting positions
A dual-port battery charger
The patented Auto Switch and SmartCut technologies for convenience and efficiency
Pros
Easy to use and maintain
Noiseless operation 
The batteries last for long
Robust construction
Seven cutting positions
Durable and resilient brushless motor
Cons
Not suitable for large lawns due to its small deck 
DeWalt Z148 48'' Mower
Zero-turn mowers are ideal for hills courtesy of their high degree of maneuverability. The DeWalt Z148 48-inch mower is suitable for working on steep plots. Its 48-inch deck makes it perfect for commercial applications. The deck has three blades and 17 cutting positions, with a maximum height of 4.75 inches.
The Z148 runs on a sturdy, commercial-grade Kawasaki FR engine, rated at 23HP, which is enough power to tackle hilly lawns. It has a maximum forward speed of 8 mph, a decent value for inclined landscapes.
The most appealing attribute of the DeWalt Z148 is comfort. The seat is cozy and can absorb impact when you drive; as such, you can handle bumpy terrains comfortably. Additionally, you can adjust the lap bars to your liking.
This DeWalt model is safe, with add-ons like a rollover protection bar and seatbelts. You need these safety features when mowing hills to protect you in case of an accident.
Specs
A 23 HP commercial-grade Kawasaki FR engine
A 48-inch deck with three blades and 17 cutting positions
It has a rigid tubular steel frame
A 5.5-gallon fuel tank capacity
Pros
The mower drives smoothly
Heavy-duty construction
A large deck suitable for commercial applications, with 17 cutting heights
The mower has a rollover protection bar and seat belts for safety
Comfortable impact-absorbent seats and adjustable lap bars
Cons
Assembling the mower can be challenging, especially for new users
Craftsman T310 Turn Tight 54-In Riding Mower
Are you looking for the best riding mower for hills? If yes, the Craftsman T310 Turn Tight is your answer. Adaptability is among this mower's selling points, which you notice in various facets. First, it has a 54-inch deck with three blades, optimal for extensive lawns or commercial settings. This mower has 12 cutting positions, ranging between 1.5 to 3.75 inches.
This mower is durable, with reinforced steel being its primary material. It can handle rough landscapes and come out unscathed. 
The Craftsman T310 Turn Tight runs on a potent Kohler 24HP 7000 series twin-cylinder engine. The engine's power gives the mower an adequate boost when handling hilly yards. You don't have to panic about stalling as the engine is resilient.
We consider the Craftsman T310 the best mower for hills due to its coziness. The high-back seat offers ample support when mowing rough yards. Moreover, this mower's foot pedal-controlled hydrostatic transmission ensures a smooth drive, especially when transitioning. The steering wheel is soft and feels natural when held.
Specs
A 24HP Kohler 7000 series twin-cylinder engine
Foot pedal-controlled hydrostatic transmission
A 54-inch reinforced stamped steel deck with three blades and 12 cutting positions
A 5-inch turn tight radius
Pros
A smooth and comfortable ride
The 54-inch deck is suitable for large-scale or commercial application
A robust engine
12 cutting positions
The front-end bumper enhances safety
Cons
You buy extras like the mulching kit separately
American Lawn Mower Company 1204 14-Inch Push Lawn Mower
Sometimes, simplicity is the way to go when dealing with a hilly yard. Powerful machines may stall, but a push lawn mower, such as the American Lawn Mower Company's 1204 mower, won't give up on you. It does not have an engine or other complex mechanics. You just push it to trim your lawn.
This manually operated mower has four 14-inch blades, which will do a great job on a small hilly terrace. It is a robust tool built of alloy steel and polymer. Maintenance is effortless, requiring simple routines like oiling and cleaning.
The American Lawn Mower Company push lawn mower is a great alternative to gas-powered mowers, as it has zero emissions and is affordable. This mower has sturdy 8.5-inch wheels for maneuverability. You can adjust the cutting height from 0.5 to 1.75 inches.
Specs
A 19-pound utility
Primary materials: alloy steel and polymer
Four 14-inch blades
An adjustable cutting height of 0.5 to 1.75 inches
Pros
Effortless use and maintenance
Easy to store
The mower is durable
An environmentally-friendly utility
You can tweak the cutting height
Cons
It is unsuitable for expansive yards
Ryobi 48V 38'' Brushless Electric Riding Mower
You can consider the Ryobi 48V 38'' electric mower as the best mower for hills, especially for small yards, like those in the suburbs. This electric mower gets its power from three durable brushless motors powered by a 100Ah lead-acid battery. The mower lasts up to 2.5 hours on a single charge. 
The Ryobi 48V brushless electric mower is environmentally friendly, as it is fumeless. Its quiet operation of fewer than 70 decibels will save you from noise complaints. 
You will appreciate this mower's versatility when you check out the deck. The 38-inch deck is optimal for small and slightly large yards of up to 2.5 acres. This utility has two blades and 12 cutting positions between 1.5 to 4.5 inches. 
Specs
Power source: electric
A 38-inch deck with two blades and 12 cutting positions
Three brushless motors
A 2.5-hour runtime on a single charge
Pros
Durable and efficient brushless motors
Fumeless and noiseless operation
The 38-inch deck has 12 cutting heights
LED headlight for mowing in the dark
A single charge lasts 2.5 hours
Cons
How To Mow a Hilly Yard
Mowing uphill is strenuous and can result in accidents if not properly handled. Start by inspecting the lawn to guide you on the proper utility for the task. With the right mower, you need to go slow to avoid accidents like rolling and slipping.
It is advisable to mow diagonally for your safety, especially for steep lawns. If using a walk-along mower, you should trim vertically in an ascending manner, then come down the hill and repeat the process. It may be time-consuming, but it guarantees your safety.
Raise your deck height to accommodate the bumps on the mowing path. With time you will grasp the proper technique of mowing rugged terrains and get excellent results.
Things To Consider Before Buying a Mower For Steep Hills
As an avid landscaper, you understand that purchasing equipment is not a direct engagement. You must consider several factors to help you land on the right utility. The same applies when shopping for the best mower for steep hills. Highlighted are some things to consider when getting a mower for your rugged yard.
The Type of Mower
Several mowers exist in the market, each with unique features to meet various landscaping needs. The walk-along mower is among the most common. As its name hints, you walk behind it as it trims the grass. Under this category, the self-propelled lawn mower is suitable for hilly lawns. It is a powered tool that you steer rather than push. 
Push mowers will do an excellent job on small yards with manageable slopes. They are cheap and easy to maintain. The hover lawn mower is another walk-along perfect for a hilly terrace courtesy of its high maneuverability. 
You need more power for extremely steep or expansive lawns. A ride-on mower is an excellent option for such scenarios, providing comfort and safety. Unlike walk-along mowers, you sit on a ride-on as you operate it. Under this category, we have the zero-turn mower, articulating mower, riding mowers, and garden tractors.
The Area of The Yard and How Hilly It Is
The size of your yard and its inclination are crucial factors that help you pick the right mower. As mentioned previously, a small terrace with manageable slopes calls for simple utilities, primarily the walk-along mowers. For extremely rugged or expansive terrains, you need powerful utilities, mostly ride-on mowers.
The Engine 
The engine propels the mower, and you need a robust one to tackle steep landscapes effortlessly. Most walk-behinds have an engine rating of 2-8 HP, which is relatively lower than ride-ons, at 15-30 HP. You need a potent and durable engine that will support heavy-duty tasks and is less prone to breaking down. Pick mowers with motors from renowned manufacturers for ease of repairs and getting spare parts. 
Adaptability
Adaptability is the functionality of the mower in different situations. The best mower for hills should be versatile to handle various tasks on your lawn. A critical component that showcases this feature is the deck. Mowers for hills must have an adjustable deck that will work with multiple terrains without damaging the blades.
The tires can also uphold adaptability. Ideal tires should have the perfect tread and suspension to work on irregular yards. 
Comfort and Safety
If you are going for a ride-on lawn mower, you must ensure that it is comfortable and safe. The seat should be cozy, with a seatbelt for safety. A rollover cage is another crucial safety feature, handy in the event of a roll. 
Price
When looking at price, cheap is not always the way to go, as the mower might lack some features. Instead, go for a utility that balances the cost and features, giving you an excellent bargain. 
It is easy to get tempted into buying second-hand mowers due to their affordability. Be keen when opting for second-hand deals to avoid getting a faulty mower that will be more of a nuisance.
Other things to consider when looking for the best lawn mower for hills are the power source, durability, and ease of maintenance. On power source, you can opt for gas or battery-powered mowers. The lawn mower should be a high-quality build for long-term use with minimal repair and replacement costs.
Final Thoughts
Mowing a hilly terrain is a challenge you want to avoid as a landscaper. However, you won't break a sweat if you have the best mower for hills. Definitive characteristics of an ideal mower include a powerful engine, lightness, and durability.
Look up the highlighted selections to determine the finest for your rugged terrace. Also, check out the buying guide to know what to consider when getting mowers for hills.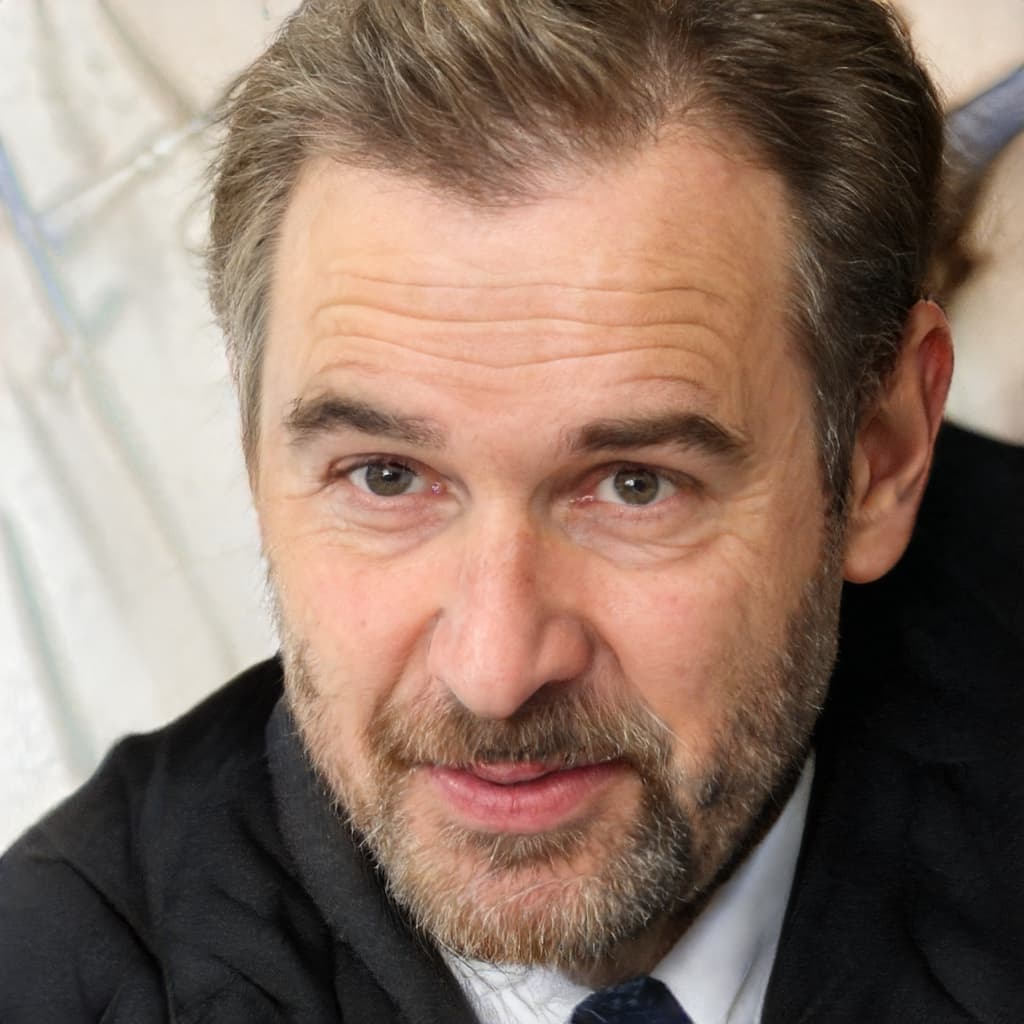 Hello! My name is Chris, and I am the founder of Yard Floor. When I was a toddler, my family had a lush green lawn. I was at the center of caring for and maintaining this lawn and even proceeded to take an associate's Degree in landscaping. I am here to share my years of experience with you – be it repairing your mower/tractor or caring for your lawn.