Are you a budget-conscious UTV enthusiast looking for a versatile, reliable utility vehicle? The Axis 500 UTV offers excellent value for money thanks to its outstanding features. It's a mid-range UTV for consumers interested in a vehicle that rivals high-end brands without breaking the bank.
The UTV is known for its heavy-duty engine, powerful winch, multi-gear facilities, and spacious cargo bed. These are among the best features in more prominent brands that might cost you a fortune. 
So is Axis 500 UTV a good choice for you?
Luckily, we've looked into several Axis 500 UTV reviews to answer this question. Our review delves into various Axis 500 UTV specifications, top features, and pros/cons to help you decide.
Axis 500 UTV Specs
Features
Specs
Engine
Engine: 4-stroke
Displacement: 471cc
Cylinder: Single cylinder
Horsepower: 24 HP
Fuel system
EFI
Fuel capacity
7.6 gallons
Drive system
2WD/4WD
Transmission drive system
Automatic CVT
Suspension rear
Dual arm suspension with anti-sway system
Brakes (Rear & Front)
Dual-ventilated hydraulic disc
Ground clearance
11"
Tires
Front: 26 x 9-14Rear: 26 x 11-14
Wheel base
75"
L x W x H
118.5" x 57.5" x 72.4"
Vehicle weight
1197 pounds
Cargo bed capacity
350 pounds
Winch
3500 lbs.
Towing capacity
1200 pounds
Warranty
2-year limited
Top Features
Below are the key features of Axis 500 UTV.
Heavy-Duty Engine
The Axis 500 UTV features a heavy-duty four-stroke 471cc engine powerful enough to tackle some of the most challenging tasks. 
It produces 24 horsepower to ensure improved towing capacity on steep or rough terrains. The engine provides better acceleration on all terrains while bearing heavy loads.
The manufacturer designs the Axis 500 engine to deliver more torque than speed. The UTV comes with a top speed of 40mph, although it can reach up to 45 mph on paved roads. 
Unfortunately, the UTV can't keep up with most UTVs from giant brands when it comes to speed.
You'll love this engine due to its smooth operations and low vibrations. However, users claim the engine is slightly noisier than other models.
Adequate Fuel Capacity
One of the worst nightmares for UTV owners is running out of fuel in remote areas. Thankfully, the Axis 500 UTV's fuel tank can accommodate up to 7.6 gallons of gas. You'll enjoy longer rides into the plains without worrying about fuel running out.
After filling the tank, you can cover 150 to 160 miles without refilling it.
Drive System
The Axis 500 4X4 UTV features an on-demand 2WD/4WD feature to ensure you go wherever you want. Depending on the riding conditions, you can switch between 2-wheel to 4-wheel drive to enjoy smooth rides.
The on-demand 4WD feature improves your UTV's grip to boost performance on steep or rough terrains. As a result, you can haul heavy loads despite the condition of the landscape. The 4WD feature offers a firm grip to avoid getting stuck in muddy areas.
Reliable Tires and Brakes
Tires and brakes are critical to a UTV, especially when tackling challenging terrains. The Axis 500 has compact, 26-inch tires made of heavy-duty 6-ply nylon. They feature a directional tread pattern to ensure ample grip on all terrains.
Moreover, the tires provide better stability and higher weight capacity, making your UTV reliable under heavy loads. Their compact size makes manual steering less demanding when riding on rough terrains.
Regarding brakes, the Axis 500 has four hydraulic disc brakes. While the UTV lacks automatic engine brakes, the hydraulic disc brakes help slow down and stop the vehicle despite the riding conditions.
Powerful Winch
If you go through most Axis 500 UTV reviews, you'll find users hailing various accessories, including the winch.
UTVs getting stuck in mud is not unusual. The situation can get ugly if it accidentally gets stuck in a ditch and you can't figure out how to rescue it.
To avoid such a situation, the Axis 500 comes with a powerful winch whose capacity is 3500 lbs. Since your vehicle weighs 1197 lbs, you can use the winch to rescue the UTV despite being under a heavy load.
Excellent Suspension
A good suspension system for a UTV prevents bumpy or hazardous rides in rugged areas. Since UTVs work on challenging terrains, they require a high-quality suspension system to absorb shock and ensure smooth rides.
Luckily, the Axis 500 UTV features dual-arm suspensions for the front and rear wheels. These suspensions have an anti-sway system to offer excellent stability. The suspensions are reliable on rugged plains, absorbing shock and ensuring better cornering control.
You can use the adjustable shocks to reduce preload when going for softer rides. The standard 11" ground clearance provides more stability to negotiate even the rutted terrains. Unfortunately, the vehicle doesn't perform well when it comes to rocky climbing.
Multi-Gear Options
The multiple-gear option is one of the best features of a UTV. With multiple gears, you can navigate different terrains and enjoy smooth rides without struggling to keep the vehicle on course.
Luckily, that's what you get in the Axis 500 UTV. The vehicle features high, low, neutral, and reverse gears for a convenient riding experience. Whether a beginner or an experienced rider, you'll easily control your UTV using the multi-gear options.
Ample Bed Capacity
A UTV with a decent bed capacity allows you to carry supplies from one point to another. Based on the Axis 500 UTV price range, you'll get a cargo bed with a load capacity of up to 350 lbs. This bed capacity is decent for most users carrying sizable supplies on their farms or on the plains.
Other Outstanding Features
Below are additional features that make the Axis 500 a worthwhile UTV:
The UTV has a maximum towing capacity of 1200 lbs. You can use your UTV to tow heavy loads and cruise through challenging terrains without compromising performance.
The UTV features plastic front and rear bumpers that can withstand heavy pressure while riding.
Manufacturers design the Axis 500 with three color options; green, red, and camo.
The cab area has driver and passenger seats and removable sidebars.
The UTV has a liquid-cooling roof, aluminum rims, and a sturdy windshield.
The UTV features high/low beam headlights to enhance visibility in dark or regular driving conditions.
The UTV's electronic fuel injection (EFI) system offers excellent fuel efficiency to boost the engine's performance. It ensures the engine gets a good mixture of fuel and air for improved power output.
The UTV features liquid cooling to maintain the engine's temperature, especially when operating in challenging environments. With liquid cooling, you can protect the engine from overheating, losing power, and stalling.
The automatic transmission system in this UTV allows gear shifting to be smooth and responsive. As a result, the UTV is easy to operate on various terrains.
How Much Does the Axis 500 UTV Cost?
The Axis 500 is a budget-friendly UTV for users seeking a high-performance off-road vehicle. It costs between $8,499 and $10,500, with prices varying depending on the available accessories and color chosen.
If you're looking for a used UTV, you'll find most used Axis 500 models' prices ranging from $7,000 to $9,000. Their prices vary depending on the year of make, mileage covered, and vehicle condition.
Most Axis 500 UTV reviews show that the vehicle is worth the money, thanks to its features and capabilities.
Axis 500 UTV Pros:
Powerful winch
Multiple gears
Budget-friendly
Heavy-duty engine
Ample bed capacity
2-year limited warranty
Axis 500 UTV Cons:
A bit noisy
Not ideal for rocky climbing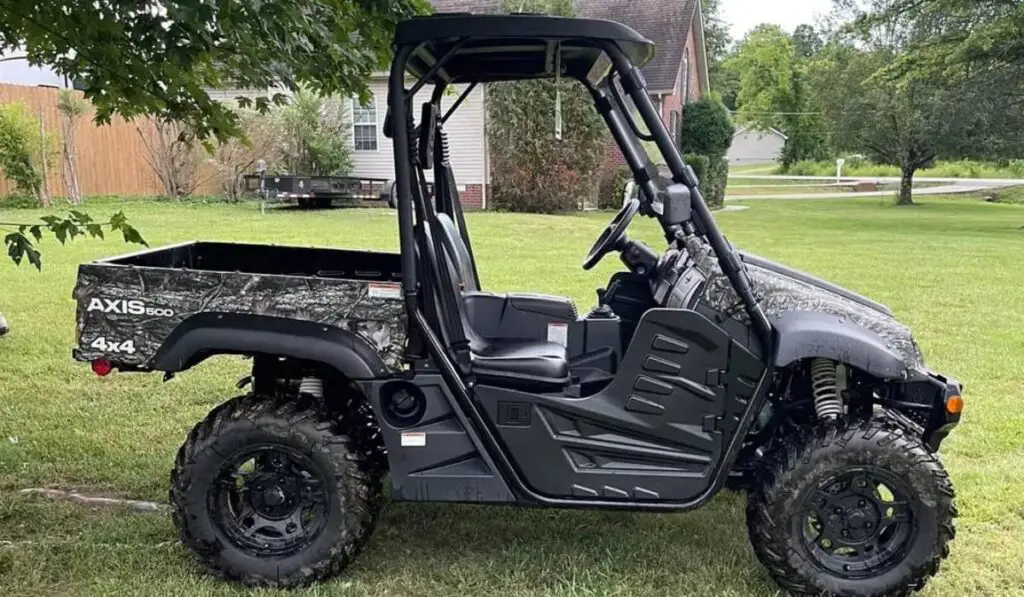 Frequently Asked Questions
Below are responses to commonly asked questions about the Axis 500 UTV.
Who makes the engine for the Axis 500 UTV?
A manufacturer called Hisun Motors Corp in the USA makes engines for Axis 500 UTVs.
Is the Axis 500 UTV any good?
The Axis 500 UTV is one of the best utility vehicles for budget-conscious users. The UTV comes with outstanding features you'll find in high-end brands, making it a worthwhile investment. It's also robust and reliable enough for handling challenging tasks on all terrains.
How fast does the Axis 500 UTV go?
The Axis 500 UTV has an advertised speed of 40 miles per hour. According to some users, the UTV can reach up to 45 miles per hour on paved roads.
Verdict
Hopefully, our Axis 500 UTV reviews provide everything you need to decide if this vehicle is worth the money. Despite having a lower price tag, this UTV offers some of the best features common in UTVs from giant brands. Its heavy-duty engine delivers reliable power to tackle all terrains.
Thanks to its outstanding towing capacity and ample rear bed, the UTV will transfer sizable loads from one point to another. Its tires, brakes, and suspensions will ensure you navigate uneven terrains without compromising performance.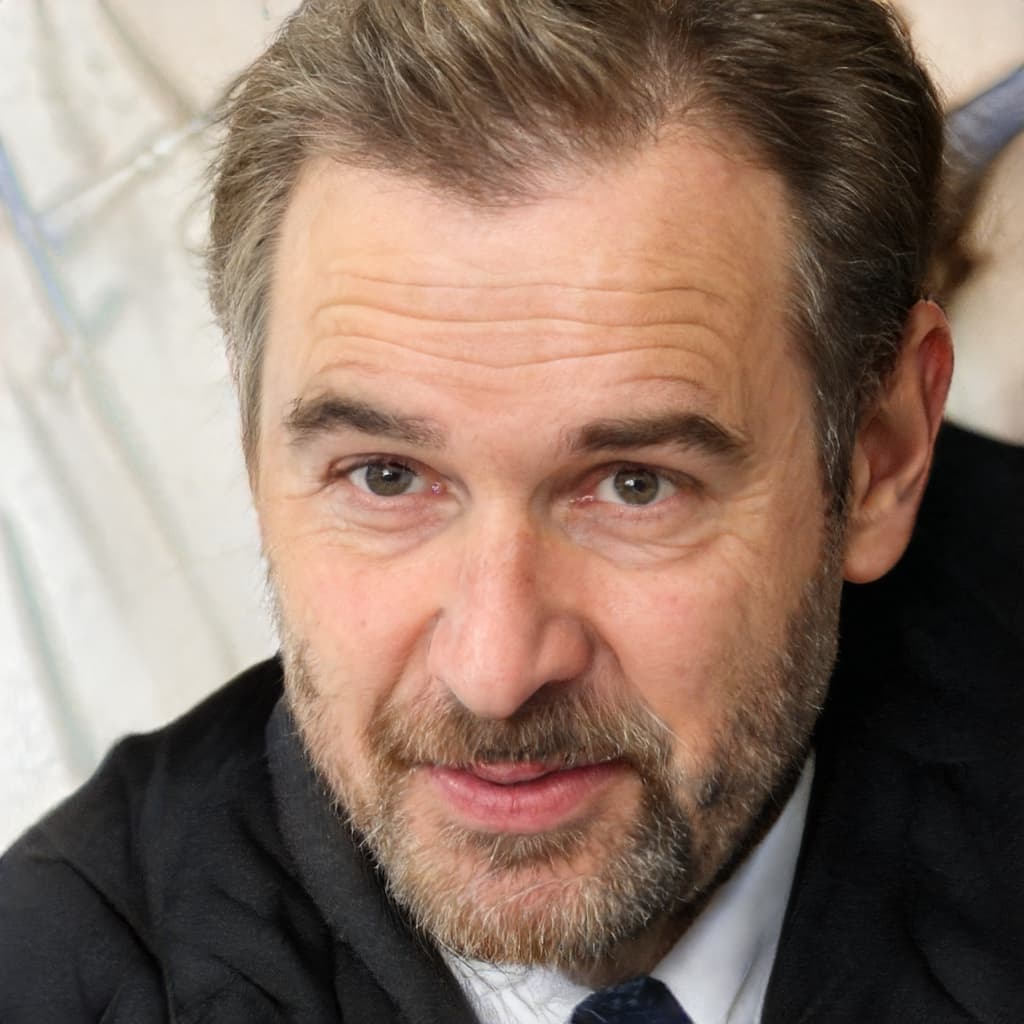 Hello! My name is Chris, and I am the founder of Yard Floor. When I was a toddler, my family had a lush green lawn. I was at the center of caring for and maintaining this lawn and even proceeded to take an associate's Degree in landscaping. I am here to share my years of experience with you – be it repairing your mower/tractor or caring for your lawn.