Most of us love an outdoor space that is beautiful. A place we can sit and relax, whether after a long day at work or during the weekend. One of the main things your space will need is outdoor flooring over dirt or grass. So, with many flooring options, which one is right for you?
Outdoor Flooring Over Dirt Ideas
Below are ideas to revamp your outdoor flooring.
Outdoor ceramic tile
Brick and concrete pavers
Stone flooring
Rubber tile
Outdoor carpet
Gravel
Artificial grass
Concrete flooring
Ground covering plants
Hardwood flooring
Composite deck
Outdoor Ceramic Tile Flooring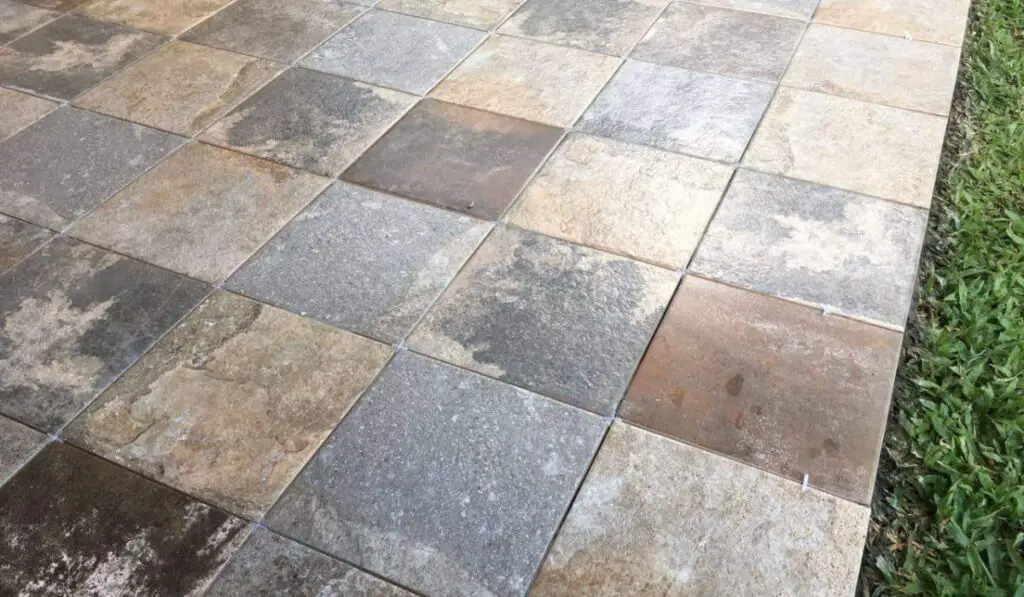 Tiling is one of the most used options for outdoor flooring. Of the various types of flooring tiles available, one is ceramic tiles. Ceramic tiles are not only versatile but also have low maintenance.
Ceramic tiles are widely used because they are more affordable and have a low installation cost compared to natural stone and wood.
Ceramic is more durable than laminate flooring and is water resistant than wood flooring.
Among the most important things to consider about ceramic tile flooring is that it is affected by temperature changes. While ceramic tiles can make your outdoor floor look beautiful, they can crack in extremely low temperatures.
Before deciding to install these tiles, it is recommended that you talk to the retailer at the local flooring store and evaluate whether ceramic tiles are a viable option for your outdoor space.
Another vital thing to ask is the coefficient of friction (sip resistance) of the tiles you are looking to buy because ceramic tiles, when wet, are slippery. Due to this, they might not be a great option when flooring areas where children may play or run around.
Outdoor Brick and Concrete Pavers Flooring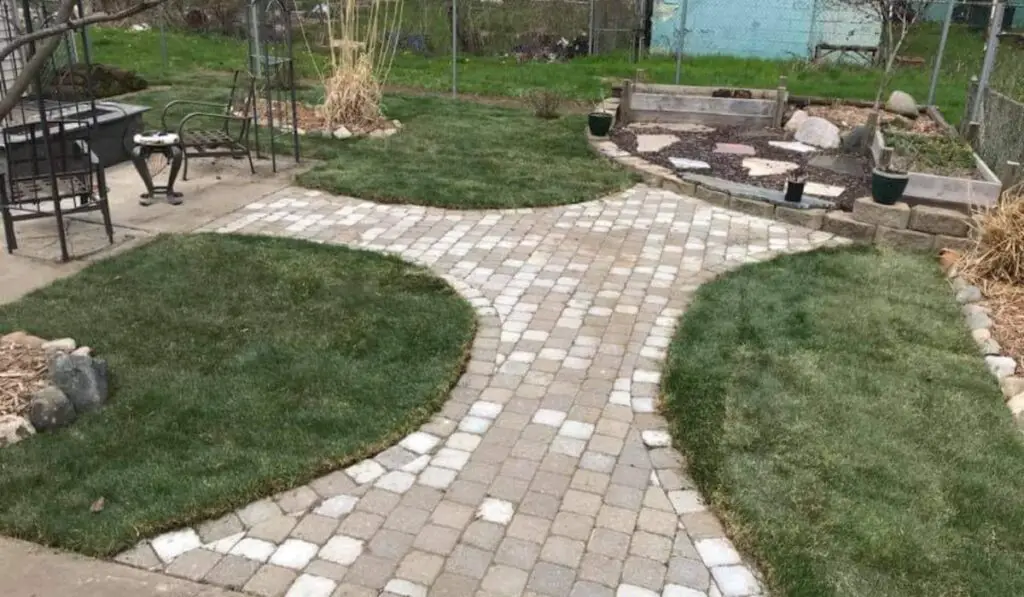 Brick and concrete pavers are inexpensive materials for flooring your outdoor space. They can make your outdoor space elegant and long-lasting compared to other flooring alternatives.
With the price of one paver about 60 cents or even less and a per square foot price of between $1 to $5, brick pavers are a cheap outdoor flooring over dirt option.
The best part is if you have stone and bricks from previous projects, you can recycle and use them when installing a concrete and brick floor for your outdoor area.
Apart from being low maintenance, pavers are also low prep. You can easily create your outdoor floor over the weekend using simple and readily available tools
When the pavers have been laid, the gaps between one to the next can be filled using polymeric sand, making them durable.
During maintenance, you can sweep debris to avoid staining. Alternatively, hose the surface when you want to clean grime and grit.
Outdoor Stone Flooring
Natural stone flooring for your outdoor patio is something that feels like it was meant to be. Even though the initial cost of buying natural stone might not be as cheap as other flooring options, it is long-lasting.
When properly installed, outdoor stone flooring over dirt can look gorgeous. Plus, there are many different ways to choose the stone to use.
You may use straight-cut stones if you desire a uniform look or mix up the other stone types with varying shapes.
An ideal way to promote sustainability is to use local-sourced landscape stones.
Doing this will create a gorgeous outdoor floor that naturally has a cohesive look with your surroundings.
Outdoor Carpet Flooring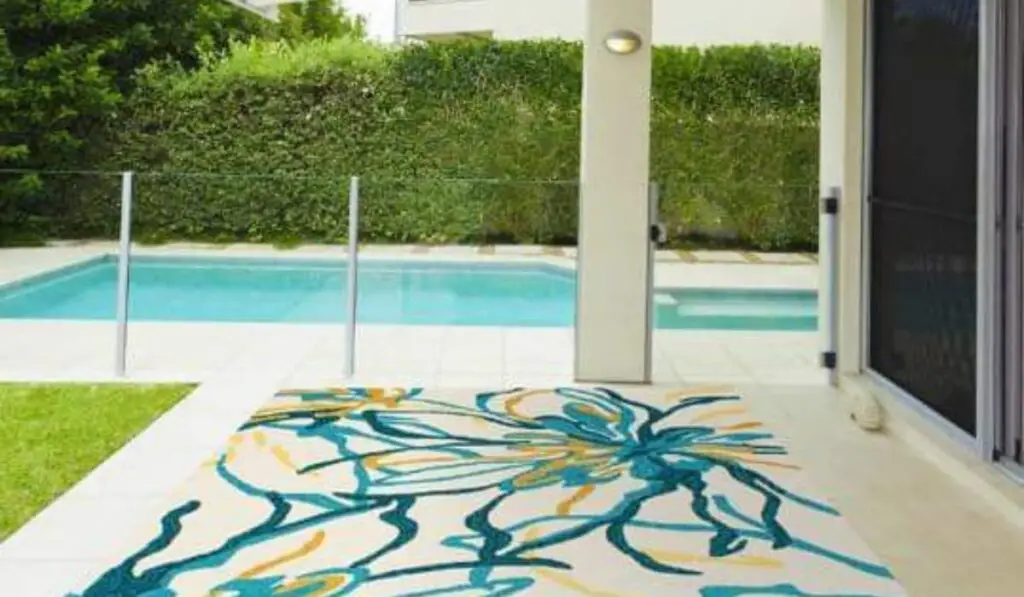 Carpet flooring is ideal for homeowners who love barefoot lounging on the patios. It is a good way to take the comfort level of your patio a notch higher than even laminate flooring.
Outdoor carpet floor installation is not only affordable but also easy to do. There are different carpets options, including peel-and-stick tiles. These are especially quick and simple to install, even for a newbie.
Some homeowners might be concerned about the durability of installing a carpeted floor in their outdoor spaces. However, outdoor carpets are not similar to indoor ones.
Unlike indoor carpets, the outdoor ones have a durable, low-pile carpet. Good examples are the ones you find in schools or office buildings.
Even though carpet flooring is durable, it may require replacing sooner than other outdoor flooring options.
Outdoor Rubber Tile Flooring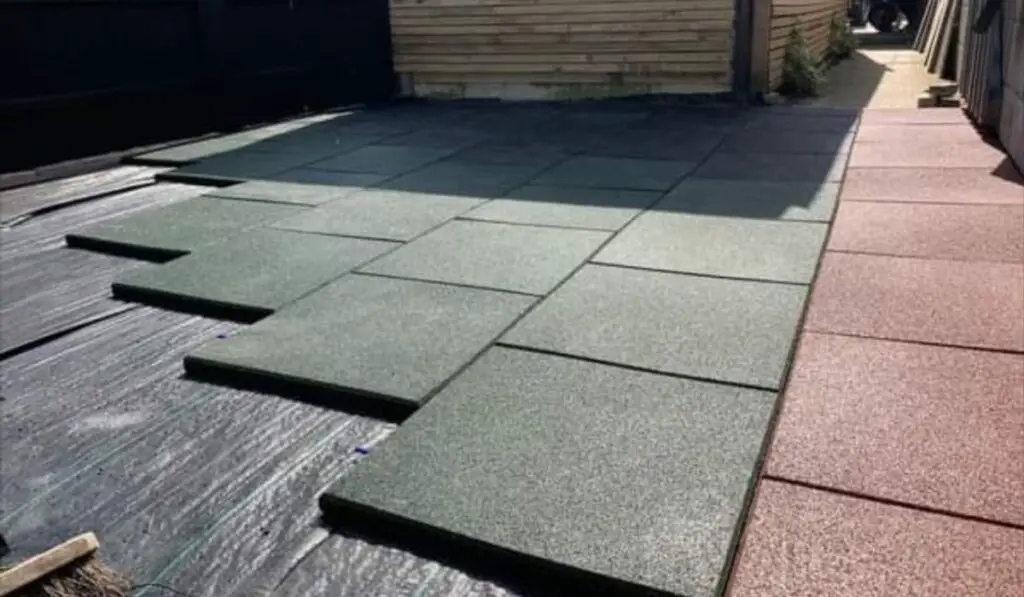 Outdoor rubber tile flooring is one of the most overlooked outdoor flooring ideas over dirt. Most homeowners do not realize rubber tiles are not only shock resistant but also slip-resistant and durable.
Rubber tiles can be designed to look like asphalt, stone, or brick. Another reason to consider rubber tile flooring is that it is very affordable, with cost per square foot starting from $2.
Outdoor rubber flooring can be an excellent option for outdoor areas, especially in outdoor areas where kids might play, such as jungle gyms and play areas. They provide a shock and slip-resistant area for kids to run and play, thus limiting the risk of injury.
Outdoor Gravel Flooring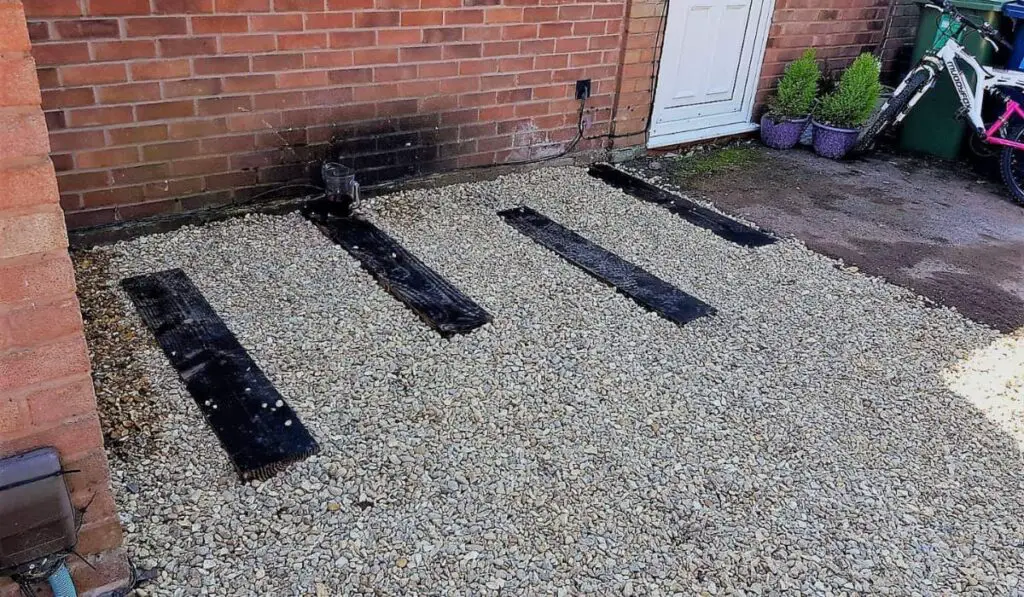 Outdoor gravel flooring is one of the few options for homeowners with tricky landscapes.
Installing outdoor flooring can sometimes be challenging for people in these areas, especially in unique landscapes.
Using gravel makes the installation process a lot easier, and it is something that you can do by yourself. It requires little preparation and is easy to fill even for uneven ground and irregular-shaped areas to be floored.
Another reason for using gravel in your yard l is that it can be placed on the dirt. However, installing a landscape fabric before filling the gravel is advisable to prevent weeds from growing through your gravel flooring.
Outdoor Artificial Grass Flooring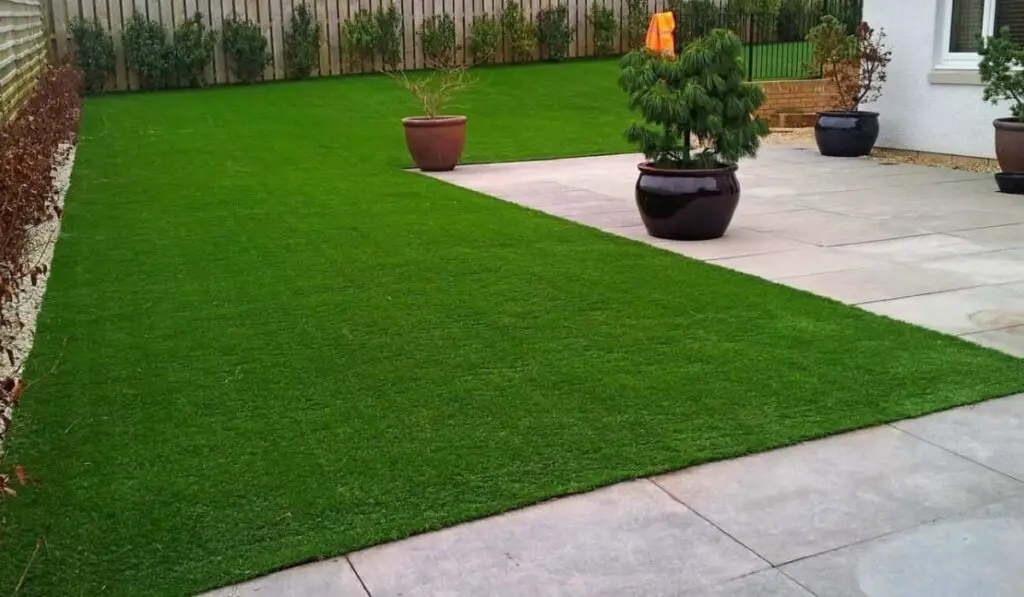 Which is the better outdoor flooring, artificial grass or natural grass?
In most cases, it is not easy choosing one over the other. What influences the choice is more about preferences.
Artificial grass is affordable and has a low maintenance cost. When you couple this with the fact that you do have to worry about weeds, it is easy to see why this flooring can be a good option for some people.
Homeowners with seasonal allergies may opt for artificial grass outdoor flooring over dirt to avoid pollen allergies from late spring to early summer.
You can opt for artificial grass if you wish to save money on hiring landscapers to maintain natural grass.
Outdoor Concrete Flooring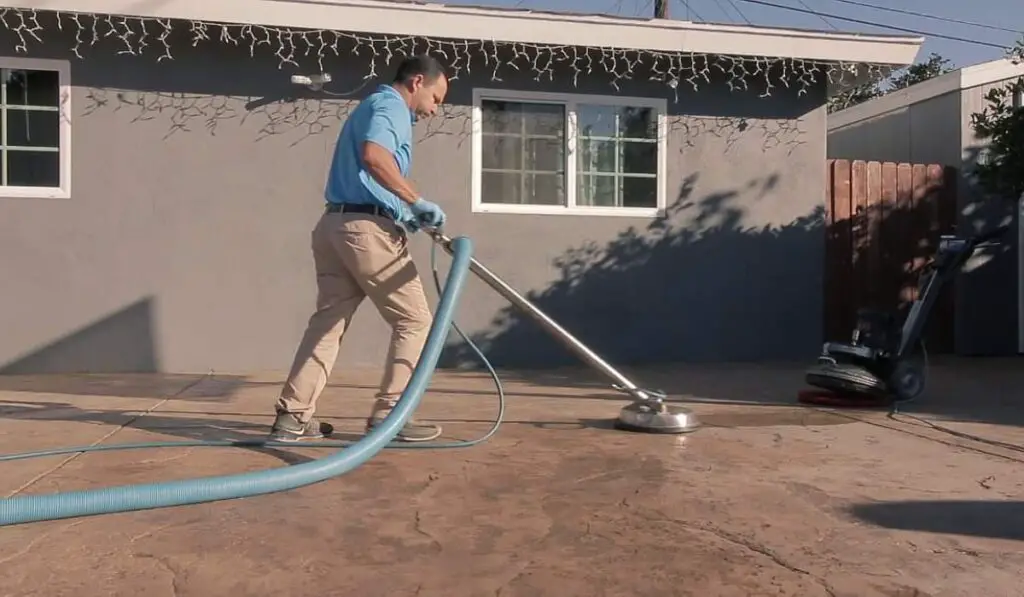 The fact that outdoor concrete is easily maintained, inexpensive, and lasts longer than most options is one of the main reasons it is among the most commonly used outdoor flooring types.
For every square foot, outdoor concrete flooring costs vary between $4 to $6. You can also use concrete pavers, although it is a bit more expensive than regular concrete.
Sometimes homeowners might think that concrete flooring can be bland. However, this is not true. You can incorporate a wide variety of design options in your installation to give it a more beautiful look rather than the bland color of concrete.
These design options may include staining, painting, burnishing, adding epoxy resin (non-slip), or even having a stone, wood, or tile look. Although these design options will require additional expenses, they are worth it.
Outdoor Ground Covering Plants Flooring
Do you wish to promote sustainability and protect the environment? If these two things are important to you, ground covering plants can make an excellent flooring option for your outdoor space.
Outdoor ground covering plants is not just about using grass. Other ground-covering plants can also be used. Some of these include:
Canadian Anemone
Deadnettle
Candytuft
Creeping Phlox
Ground covering plants can make a good flooring option for several reasons.
Ground covering plants used for outdoor flooring are hardy, can withstand people regularly walking on them, and do not need mowing.
Outdoor ground-covering plant flooring is not just a flooring option but allows you to be eco-friendly.
Outdoor Hardwood Flooring
If there is something that is both traditional and timeless, it is hardwood flooring. Wood decking and flooring have been used for a very long time worldwide.
The most common woods used for outdoor flooring over dirt in the US include Redwood, Cypress, and Western Red Cedar.
Other exotic species of hardwood can be used, such as teak, mahogany, and ipe. While these hardwoods tend to be more expensive than the standard varieties, they will make your outdoor flooring look stunning and elegant.
A vital thing to remember regarding hardwood flooring is that the wood has to be adequately treated before use.
Treated hardwood can waistband the elements and thus resist warping and rot, ensuring your outdoor floor has a longer lifespan.
It's advisable to take care of your hardwood flooring even after installing it. A good way of doing this is making sure it is cleaned and then sealed every couple of years.
Outdoor hardwood flooring is an excellent choice for those that can afford it and plan to put a roof over it.
Outdoor Composite Deck Flooring
A Composite deck is an artificial material made from wood fiber, fine saw dust (wood flour), and thermoplastic resins. Composite decks are similar to vinyl outdoor flooring types, with the major difference being that they are made primarily of wood by-products and plastics.
A composite deck has a nonporous and hard surface which makes it unsusceptible to things such as elements and rot.
Most composite decks look like natural wood, hence why they are called 'fake wood.' The answer to which is better between hardwood and composite deck flooring is dependent on what you want.
Composite decks are cheaper than most traditional outdoor hardwood flooring options. They are simple to install since they have a configuration that clicks together when installing them.
They are easy to maintain compared to most other flooring options since all one has to do is clean them with water and a rag.
You must be careful when choosing the outdoor composite deck flooring design that you want since they cannot be stained or painted like hardwood flooring options. Their nonporous surface does not allow stains or paint to stick.
Final Thoughts
There are many outdoor flooring over dirt options. Ensure you pick a flooring option that fits your desired results and the surrounding landscape.
Another thing to look at is the installation process. Do you install it or hire a professional to install the outdoor floor? Either way, the options we have shared above are more than enough for you to choose from for your outdoor flooring project.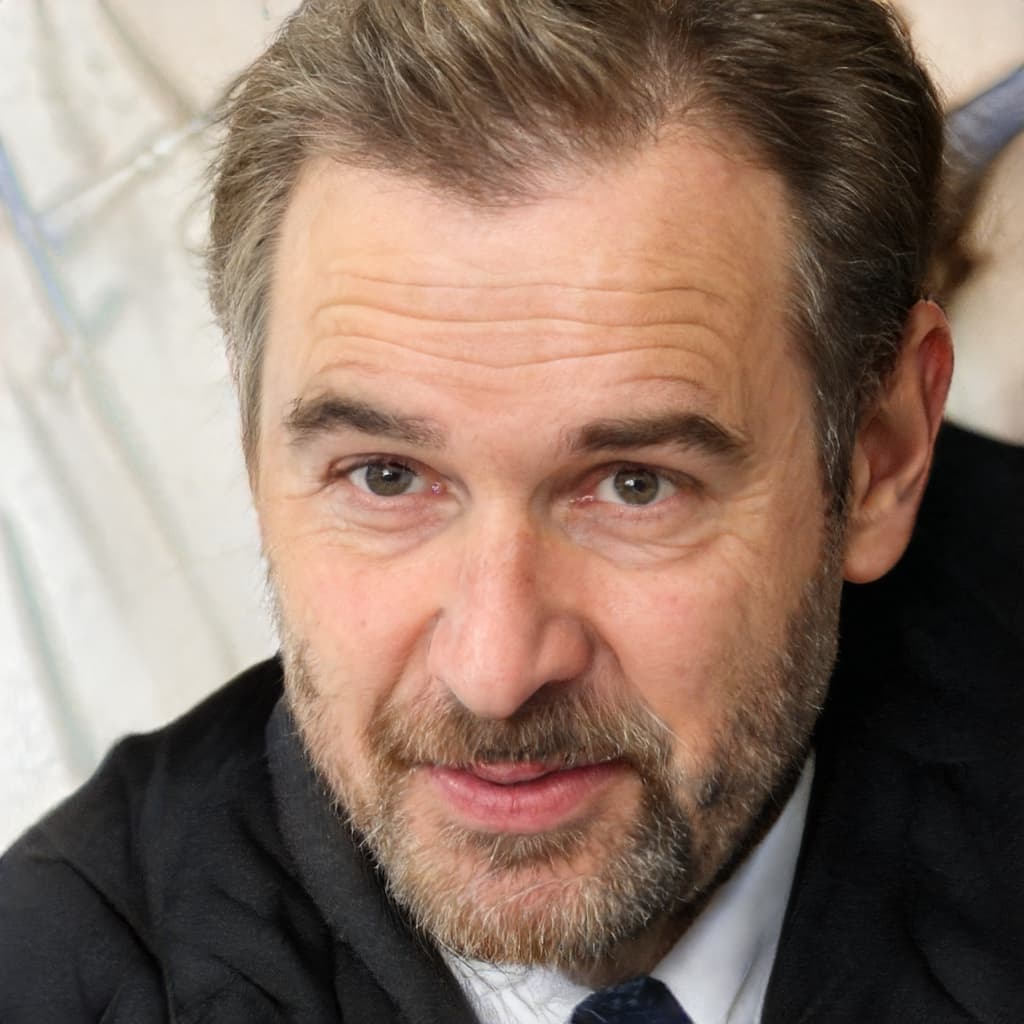 Hello! My name is Chris, and I am the founder of Yard Floor. When I was a toddler, my family had a lush green lawn. I was at the center of caring for and maintaining this lawn and even proceeded to take an associate's Degree in landscaping. I am here to share my years of experience with you – be it repairing your mower/tractor or caring for your lawn.