The S100 and S120 are among the most reliable and user-friendly lawn tractors in the John Deere 100 Series. The two models have many similarities, making them look almost identical to consumers. But which mower model suits your mowing requirements?
Thankfully, a John Deere S100 vs S120 comparison will help you decide which lawn tractor is best suited for you. Herein we will examine the differences and similarities between the JD S100 and S120 to help you select your ideal option.
S100 vs S120 John Deere: Comparison Table
| | | |
| --- | --- | --- |
| Key Features: Similarities & Differences | S100 | S120 |
| Engine Power | 17.5 HP | 22 HP |
| Engine Cylinder | Single-cylinder | V-twin cylinder |
| Fuel Filter | Larger fuel filter | Smaller fuel filter |
| Seat Back Height | 11 inches | 15 inches |
| Fuel Gauge on Display | Not available | Easy to read |
| Deck Width | 42 inches | 42 inches |
| Cutting Height | 1-4 inches | 1-4 inches |
| Speed | Forward speed: 5.5 mphReverse speed: 3.2 mph | Forward speed: 5.5 mphReverse speed: 3.2 mph |
| Transmission | Hydrostatic | Hydrostatic |
| Fuel Tank Capacity | 2.4 gallons | 2.4 gallons |
| Fuel Type | Gasoline | Gasoline |
| Tire Size | Front: 15×6-6Rear: 20×8-8 | Front: 15×6-6Rear: 20×8-8 |
| PTO System | Manual PTO lever | Manual PTO lever |
| Price | $2,100 – $2,400 | $2,600 – $2,700 |
| Warranty | 2-year (120-hour bumper-to-bumper) warranty | 2-year (120-hour bumper-to-bumper) warranty |
JD S100 vs S120: Differences
Let's dive into a detailed discussion to help you understand how these two lawn tractor models compare.
Engine Power
The lawn tractor's engine power determines how fast and efficiently you tackle your yard. If you have a more extensive lawn with several obstacles, you'll need a powerful mower engine that guarantees better results.
The S100 engine delivers 17.5 horsepower, enough to tackle smaller yards. This engine power will help you tackle 0.5 to 1 acre effectively. The S100 can also be a better match if your residential yard doesn't have aggressive turf and slopes.
On the other hand, the S120 comes with 22 horsepower, that's plenty to tackle larger yards. This lawn tractor can mow 1 to 2 acres of land. So if you need a more robust and efficient engine for tackling challenging mowing tasks, the S120 can be a better choice.
Engine Cylinder
The engine cylinder of a mower model determines how it will consume fuel in the long run. The S100 features a single cylinder that provides good torque and fuel economy. The single-cylinder engine in S100 is also lightweight and easy to maintain.
If you want to mow a smaller yard without spending more on fuel, the S100 serves the purpose.
The S120 has a v-twin (double) cylinder engine that consumes more fuel than the S100 engine. But despite consuming more fuel, the S120 will offer smoother operations over larger yards.
While you'll need to refuel more frequently, this lawn tractor will prove more efficient and productive in the long term.
Fuel Filter
The fuel filter in a lawn tractor ensures no particles, such as dirt or debris, get into the carburetor. If your mower has a larger carburetor, it'll filter more particles without replacing the filter.
The S100 lawn tractor features a larger fuel filter than the S120. The larger filter keeps the mower at its optimal condition. It allows a sufficient fuel supply into the engine over an extended period.
The small fuel filter in the S120 means you'll keep replacing it over time. You can replace this filter with a larger option to keep your mower running efficiently for a long time.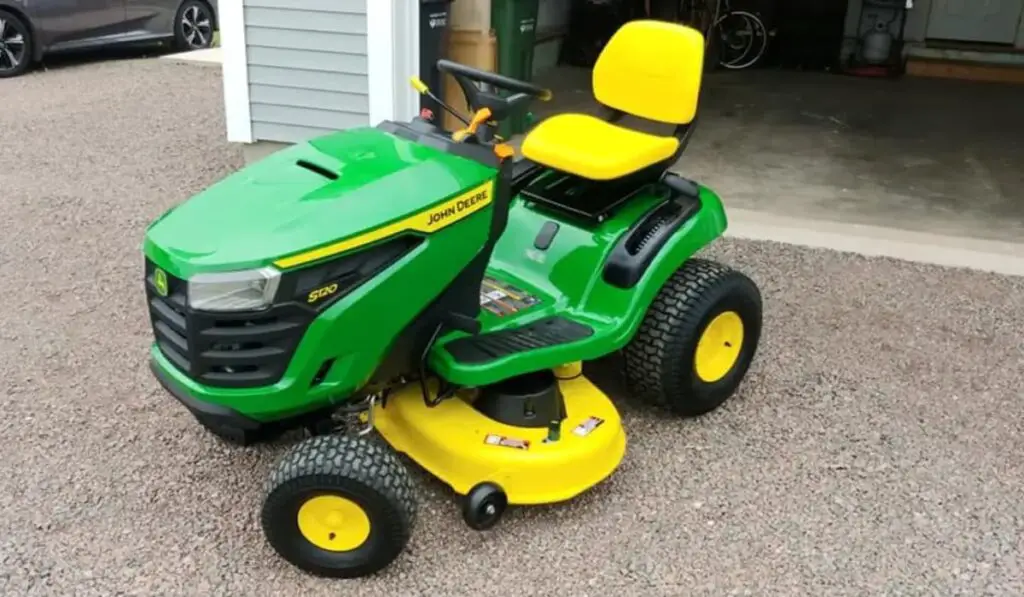 Seats
The best mower seats help you enjoy comfortable rides while preventing lower back pain. So, let's see how the John Deere S100 vs S120 compare regarding seats.
Unfortunately, the two models don't feature the best seats to offer safe and comfortable rides. However, the S120 has a better seat, thanks to thicker padding and durable material. It has a back height of 15 inches, making it better for taller riders.
The S100 lawn tractor has a back height of 11 inches and can be less comfortable for taller riders. It's an L-shaped seat that doesn't offer better back support.
You can buy a quality suspension seat and install it on your JD S100 or S120. Suspension seats offer safe and comfortable riding experiences. They'll allow you to ride on bumpy or challenging terrain without succumbing to lower back pain.
Fuel Gauge on Display
Another reason you might choose the JD S120 over S100 is the fuel gauge on display. The S120 features an easy-to-read fuel gauge that shows the level of fuel. You can tell the amount of fuel in your mower's tank to know if it needs refilling.
The fuel gauge in S120 has a convenient location on display and is visible whether in dusk or cloudy conditions. Moreover, the gauge readings won't slosh while riding on bumpy spaces.
Unfortunately, the S100 doesn't feature a fuel gauge on the dashboard. You'll need to check the gauge on the tank to tell the amount of fuel your lawn tractor has.
The good news is that you use the MowerPlus app on your smartphone to read the fuel level on both mowers. You only need to use the deluxe smart connector to access and read the fuel levels.
Price
The S100 and S120 vary when it comes to pricing. As expected, the S100 is available at a lower price than the S120. Generally, the S100 will cost between $2,100 and $2,400. Conversely, the S120 costs between $2,600 and $2,700.
Make sure you compare the prices of these mowers with your dealer before buying them.
Similarities
When comparing John Deere S100 vs S120, it's vital to check their similarities. These mowers have many similarities, but we'll cover the most critical ones.
Deck Width
Both mowers feature 13-gauge steel decks with a 42"-cutting width. This standard deck is suitable for small to medium-sized residential lawns.
Cutting Height
The cutting height for both mowers ranges from 1"-4" with 13 adjustable positions. You can set the blade at the lowest or highest cutting height to get your desired cut quality.
Speed
The JD S100 and S120 offer a beginner-level speed suited for mowing residential lawns. They have a maximum forward speed of 5.5 mph (8.9 km/h) and a top reverse speed of 3.2 mph (5.2 km/h). This speed is ideal for tackling residential yards conveniently.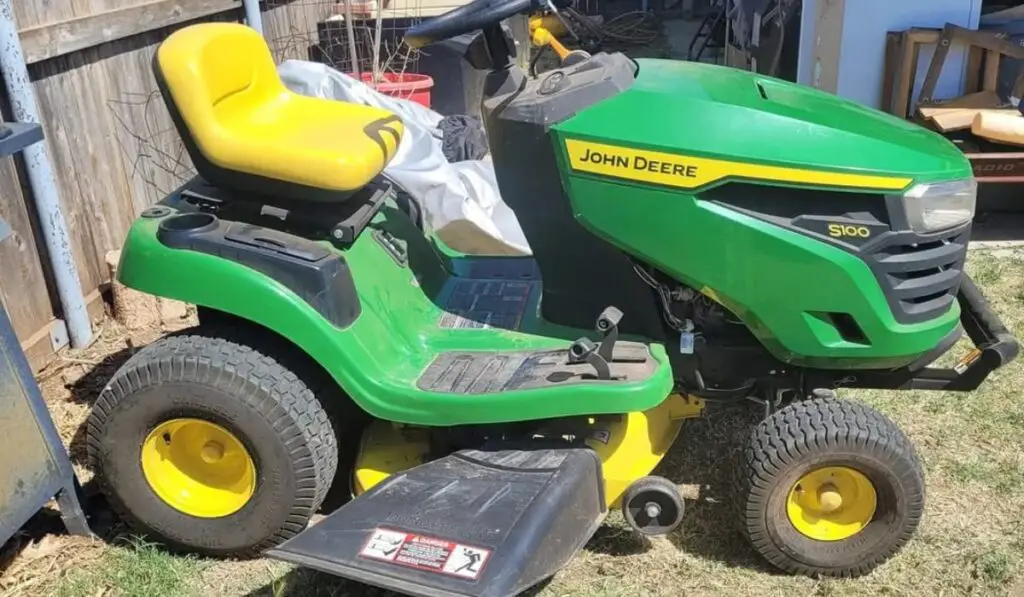 Tire Size
Both lawn tractor models feature 15×6-6 front tires and 20×8-8 rear tires. These tires are best suited for flat and less slippery terrain. If your yard has slopes, ride the mower up and down but not side to side.
Fuel Capacity
Both lawn tractor models feature a 2.4-gallon (9.1-liters) fuel tank. The only difference is that you'll need to refuel the S120 more frequently than the S100.
PTO System
The PTO system is a safety system that engages or disengages mower blades. These two lawn tractors feature a manual PTO lever that you can move to engage or disengage the blades. It's an essential safety feature used when starting the mower.
Remember to disengage the PTO lever when starting the engine to prevent the blades from cutting or hitting objects under the deck.
While larger lawn tractors up the JD 100 series feature electric PTOs, you'll love the manual PTO in your S100 or S120 due to its durability.
Pros and Cons
Pros of John Deere S100:
Easy to operate
It consumes less fuel
Relatively cheap
Cons of John Deere S100:
Pros of John Deere S120:
Easy to operate
Powerful
More comfortable
Smooth operations
Cons of John Deere S120:
Consumes more fuel due to the v-twin cylinder
Verdict
From our John Deere S100 vs S120 comparison, the S120 is a better lawn tractor option. This mower is more powerful, thanks to its 22HP v-twin cylinder engine. It's also more comfortable than the S100 and will offer smoother and quieter rides. Before settling on any of these mowers, check all their specs to determine which model suits your needs.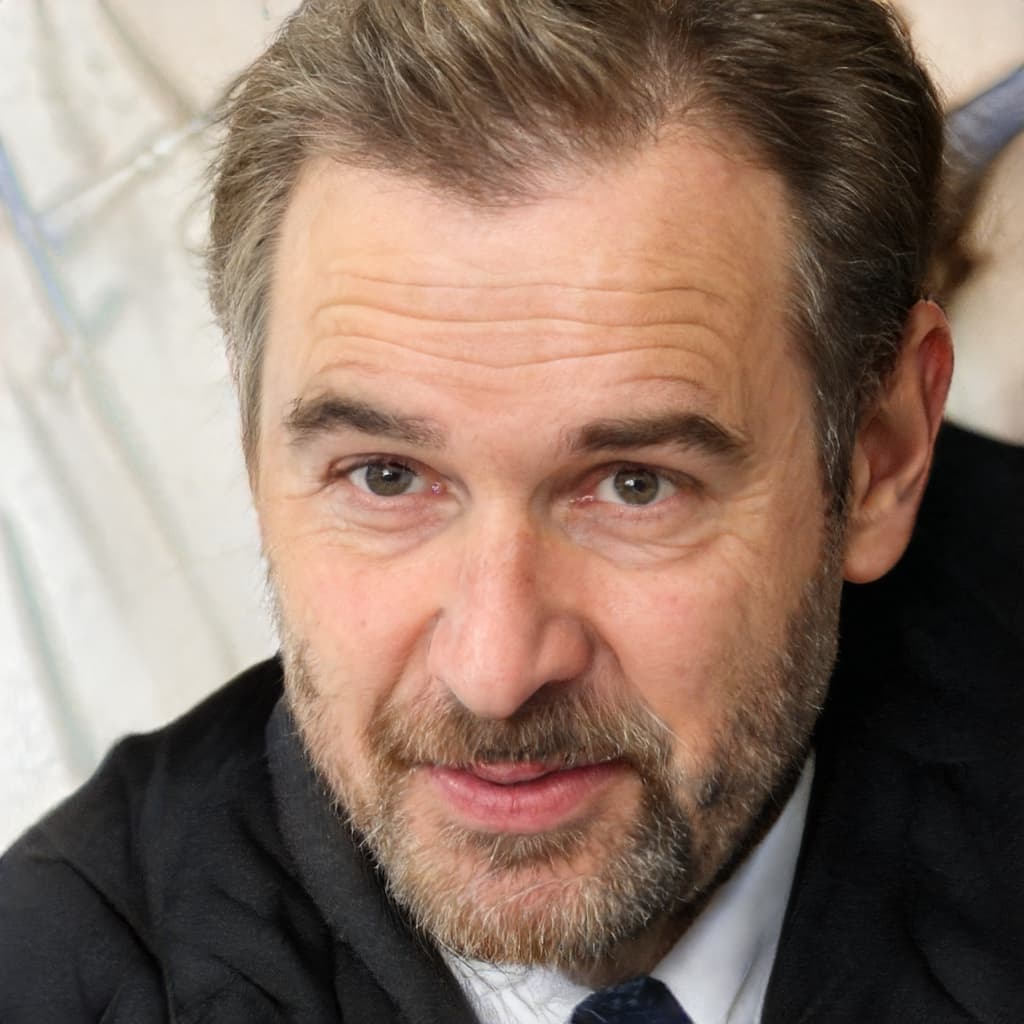 Hello! My name is Chris, and I am the founder of Yard Floor. When I was a toddler, my family had a lush green lawn. I was at the center of caring for and maintaining this lawn and even proceeded to take an associate's Degree in landscaping. I am here to share my years of experience with you – be it repairing your mower/tractor or caring for your lawn.