Leaves, grass clippings, and branches can accumulate in your yard, making it look messy. If your broom won't help clean all the debris, an efficient leaf blower from STIHL can help you get the job done. Unfortunately, choosing an ideal blower from the multiple options can be challenging.
The STIHL BG 50 or BG55 can be your best bet if you have a small to medium-sized yard. However, these blowers have several differences and will suit specific homeowners. Should you opt for the BG 50 OR BG55?
Herein, we will compare STIHL BG 50 vs BG55 to help you choose a suitable blower. We'll examine their differences and similarities, including their pros and cons.
STIHL BG 50 vs BG55: Comparison Table
| | | |
| --- | --- | --- |
| Differences & Similarities | STIHL BG 50 | STIHL BG55 |
| Power Output | 0.9 bhp | 1.0 bhp |
| Convenience | No Easy2Start technology | Utilizes Easy2Start technology |
| Fuel Capacity | 14.5 Oz. | 13.5 Oz. |
| Weight | 7.9 lbs. | 9.0 lbs. |
| Noise Level | 70 db | 69 db |
| Longevity | Built to last | Built to last |
| Fuel | Gasoline | Gasoline |
| Maintenance | Easy to maintain | Easy to maintain |
| Price | $129-$149 | $149-$189 |
STIHL BG 50 and BG55: Differences
The BG50 and BG55 differ in price, power output, weight, fuel capacity, noise level, and convenience. Let's examine each difference in detail.
Power Output
Power output is the first thing you'll consider when buying a leaf blower. A blower's engine power determines how efficient it can be on your lawn. If you have a larger lawn with a lot of debris, you'll choose a blower that delivers more power.
The BG55 is more powerful than the BG 50. STIHL BG55 has a 1.0 bhp (brake horsepower) engine, while the STIHL BG 50 features a 0.9 bhp engine. Therefore, the BG55 delivers more power to clear any debris.
The BG55 will be worth the investment if you have a larger yard requiring cleaning debris. However, if you want to blow light debris from your patio, sidewalks, driveways, or small lawn, choose the BG 50.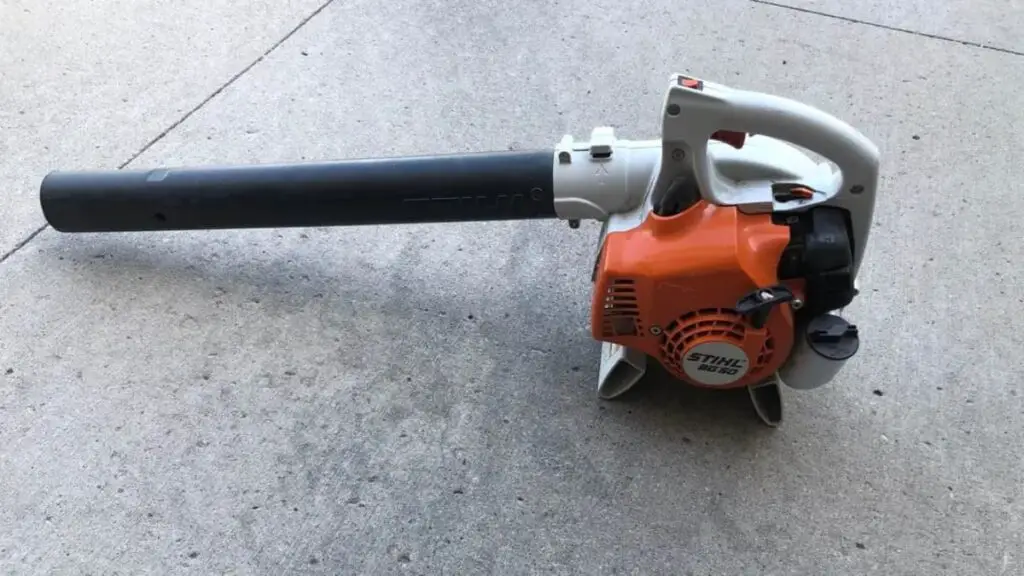 Convenience
The best leaf blower should be easy to use despite handling challenging tasks. Thankfully, both STIHL BG 50 and BG55 are easy to use around your home. They're hand-held and lightweight blowers, making them more comfortable to hold and use.
Besides being lightweight, these blowers will help reduce fatigue thanks to their easily-accessible controls and ergonomic handles.
However, the BG55 is more convenient when it comes to starting the engine. This blower features Easy2Start technology, allowing you to start the engine easily. Conversely, the BG 50 uses the standard procedure to start the engine. Below is the process for starting the BG 50:
Turn the switch on
Lock the throttle trigger
Set the choke
Pull the cord to start the blower
When starting the BG55, the Easy2Start feature simplifies the on-of settings. You'll only need to pull the starting cord.
Engine power will also determine how convenient a leaf blower is. The BG55's powerful engine will allow you to clean your yard quickly.
Fuel Capacity
The amount of fuel the tank can hold will determine how long the engine can run without refueling. When comparing the STIHL BG 50 vs BG55, you'll realize that the BG 50 holds more fuel than the BG55.
The BG 50 tank can hold 14.5 ounces of fuel, while the BG55 holds 13.5 ounces. When blowing an extensive yard with a BG55, you'll need to refill the tank more regularly.
The good news is that both blowers are fuel efficient. They will help you clear debris in your yard while minimizing fuel consumption.
Weight
The STIHL BG 50 and BG55 are lightweight leaf blowers you can hold and maneuver in your yard. However, the BG55 is slightly heavier than the BG50. The BG55 weighs 9.0 lbs. while the BG 50 weighs 7.9 lbs.
When using the BG55 to blow an extensive lawn, you're more likely to succumb to fatigue and muscle sprains.
Note that the efficiency and reliability of a mower matter more. So, the extra pounds in the BG55 should not discourage you from choosing it to handle your extensive yard.
Always consider your specific needs and the project to choose between the BG 50 and BG55.
Noise Level
Before purchasing your STIHL leaf blower, it's necessary to consider the noise regulations. You don't want to use a noisy leaf blower that will inconvenience your family or neighbors.
The WHO recommends daytime noise levels of at least 55 decibels. So, a blower with a noise rating of 60-70 decibels can be too loud in residential areas.
The BG50 is slightly noisier (70 decibels) than the BG55 (69 decibels). Unfortunately, the two blowers are loud and can disturb the peace of neighbors or family members.
There are several ways of reducing noise from your blower. They include the following:
Install noise reduction accessories: You can attach accessories such as sound-reducing attachments or mufflers to the exhaust.
Proper maintenance of the blower: Keep the blower clean and replace the air filter when necessary.
Operate the blower properly: Avoid using the blower at full throttle.
Choose the appropriate leaf-blowing time: Don't use the blower when neighbors or family members are asleep or indoors. Avoid blowing the leaves late in the evening or early morning.
Install natural barriers: Walls and fences can help absorb excessive noise from the blower.
Wear protective hearing equipment: Wear earplugs or earmuffs to protect your ears from excessive noise.
Price
Price is one of the most critical factors before buying a suitable leaf blower. It's worth noting that STIHL BG 50 and BG55 prices will vary depending on the dealer and location. The cost will be lower if you buy a blower from a dealer offering discounts.
Generally, STIHL BG50 is relatively cheaper than BG55. BG50 blowers will range from $139 to $159. On the other hand, BG55 ranges from $169 to $199.
Similarities
The BG50 and BG55 are similar in the following ways:
Longevity
The STIHL BG 50 and BG55 feature sturdy construction, durable materials, and reliable engines that last years. These leaf blowers can work for an extended period and withstand wear and tear.
If you want your blower to last longer, stick to the maintenance schedule. Then troubleshoot any problems your blower experiences to minimize downtime. 
Regarding storage, look for a cool, dry place in your garage to store the blower.
Anti-vibration System
Both blowers feature an anti-vibration system to ensure users enjoy comfortable and safe operations. The anti-vibration system dampens the engine's oscillations, reducing handle vibrations. This is a great feature that keeps your muscles and blood vessels safe.
Gas-Powered Engines
The STIHL BG 50 and BG55 have 2-stroke gas-powered engines.
Remember to check the fuel level while operating the blower to avoid engine issues like loss of power and stalling.
Note: Use fuel with less than 10% ethanol. Refueling your blower with fuel whose ethanol content is above 10% might cause damage to the fuel system and engine.
Maintenance
Maintaining your leaf blower can help it keep running longer despite using it regularly. Thankfully, the STIHL BG 50 and BG55 are easy to care for and maintain.
They are compact leaf blowers that you can clean fast and effectively. Moreover, they have easy-to-access air filters allowing users to remove and clean or replace them.
You can also access other components that need cleaning or replacement, such as the fuel filter, cooling fins, and spark plug. These blowers feature convenient fuel tanks with wide openings for easy refueling.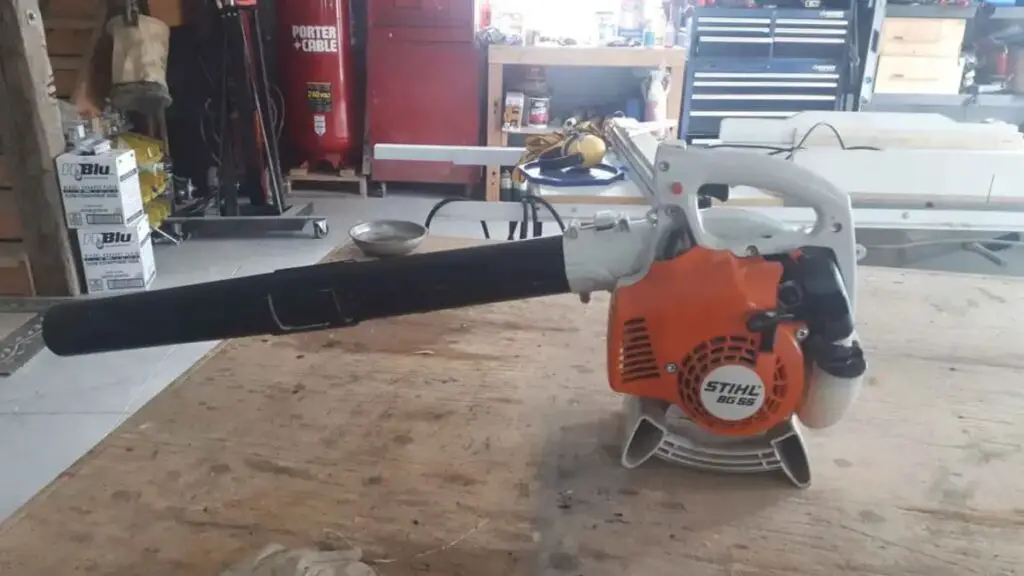 STIHL BG 50 Pros and Cons
Pros
Suitable for smaller yards
Lightweight
Easy to maintain
Easy to refuel
Easy to maneuver
Cons
Noisy
Not suitable for extensive yards
STIHL BG55 Pros and Cons
Pros
Suitable for extensive yards
Lightweight
Easy to maneuver
Easy to maintain
Easy to refuel
Cons
Verdict
Our STIHL BG 50 vs BG55 comparison helps you choose the suitable leaf blower for your needs. Both leaf blowers feature reliable engines for handling debris around residential yards.
If you have a smaller yard and are looking for a budget-friendly blower, choose the STIHL BG 50. On the other hand, go for the STIHL BG55 if you have an extensive yard with heavy debris. Ultimately, both are high-quality and efficient blowers that help keep your yard clean.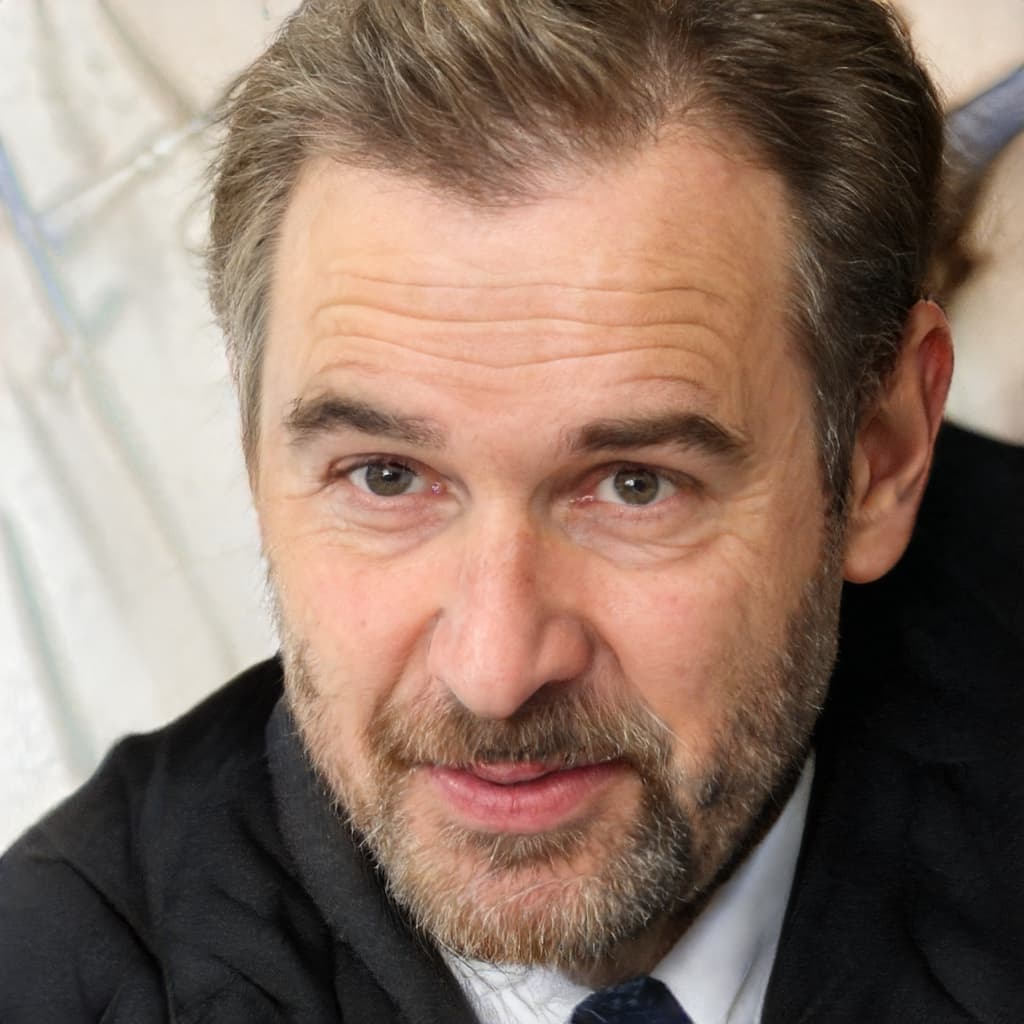 Hello! My name is Chris, and I am the founder of Yard Floor. When I was a toddler, my family had a lush green lawn. I was at the center of caring for and maintaining this lawn and even proceeded to take an associate's Degree in landscaping. I am here to share my years of experience with you – be it repairing your mower/tractor or caring for your lawn.